Our Super Awesome Audit Products & Services

Free video, audio and written content available on your desktop, laptop, tablet and phone. Read, watch and learn at your convenience.

Free and paid CPE opportunities that are on demand, interactive and just plain cool. Read, watch, learn and take a test. We have a certificate retention repository to prove attendance.




Because I think auditors are cool (and let's face it, who doesn't) we have clothing, coffee mugs and accessories to add some awesome audit humor to your life.


Your source for online audit courses
You will love your learning experiences here at That Audit Guy. We pride ourselves in providing a comfortable and convenient learning experience.
Nano learning course help you get up to speed fast
A collaborative environment let's you communicate with others
Quizzes and assignments reinforce your learning experience
Browser our growing selection of CPE eligible articles, videos & training courses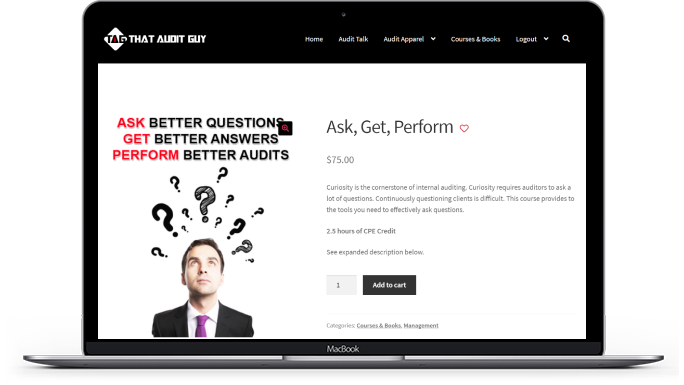 Our Popular Audit Talk Series
Audit Talk is a series of carefully crafted audit content. Articles, videos and discussions.
Online Internal Audit Courses Just For You!
Audit Apparel and Accessories
Men
|
Women
|
Kids
|
Accessories
|
Home & Living